We are back from a short break to the nation's capital, Canberra and have had the best time exploring, learning and having fun (all while trying to keep warm!) Although it wasn't at the top of our 'must see' list – we are glad we went and took the kids – there is SO much to see in this unique, planned city and the majority of attractions are FREE.
Where is Canberra?
Canberra is the capital city of Australia. Located 280km south-west of Sydney and 660km north-east of Melbourne. Canberra was founded following the federation of the colonies of Australia as the seat of government for the new nation.
What to see while in Canberra
There is a lot to see and do in Canberra and all within close proximity to each other. Here is a snap shot of the things we visited:
National Capital Exhibition
This is a really good starting point for your sightseeing in Canberra. Located in Parkes, it sets out the history of Canberra in an clear and interactive way. It definitely helps you get your bearings and you leave with a greater knowledge of the history and development of this great planned city. Set on the banks of Lake Burley Griffin at Regatta Point, there is plenty of parking available and it is a good spot for a picnic 🙂
Entry is free and the opening hours are Monday to Friday 9am to 5pm and Saturday & Sunday 10am to 4pm. For more information click here.
Mount Ainslie Lookout
Mount Ainslie is located in the north-eastern suburbs of Canberra and is a 10min drive from the City Centre.  It provides gorgeous, panoramic views of Canberra and the Brindabella ranges from the top. It is easily accessible by car and there is ample parking at the top. You can walk, cycle or drive to the top – the choice is yours 🙂
The Embassies & The Lodge
We wound up our first day in Canberra, with a nice drive around the streets containing the majority of Embassies. All Embassies are impressive and generally portray their country's architecture. We must say, the American Embassy was a stand out. You can see by the map below just how close the Embassies are to each other.
Just a stone's throw from the Embassies is 'The Lodge', where the Australian Prime Minister resides when in Canberra.
Parliament House
We hit Parliament House nice and early on our second day and thoroughly enjoyed exploring this magnificent building – from the House of Representatives, to the Senate and right up on the rooftop. The kids have a new appreciation for Parliament House now and love seeing it on the nightly news knowing that they were there and standing right out the front. Things to note: parking is available on site and entry is free. For more information, click here.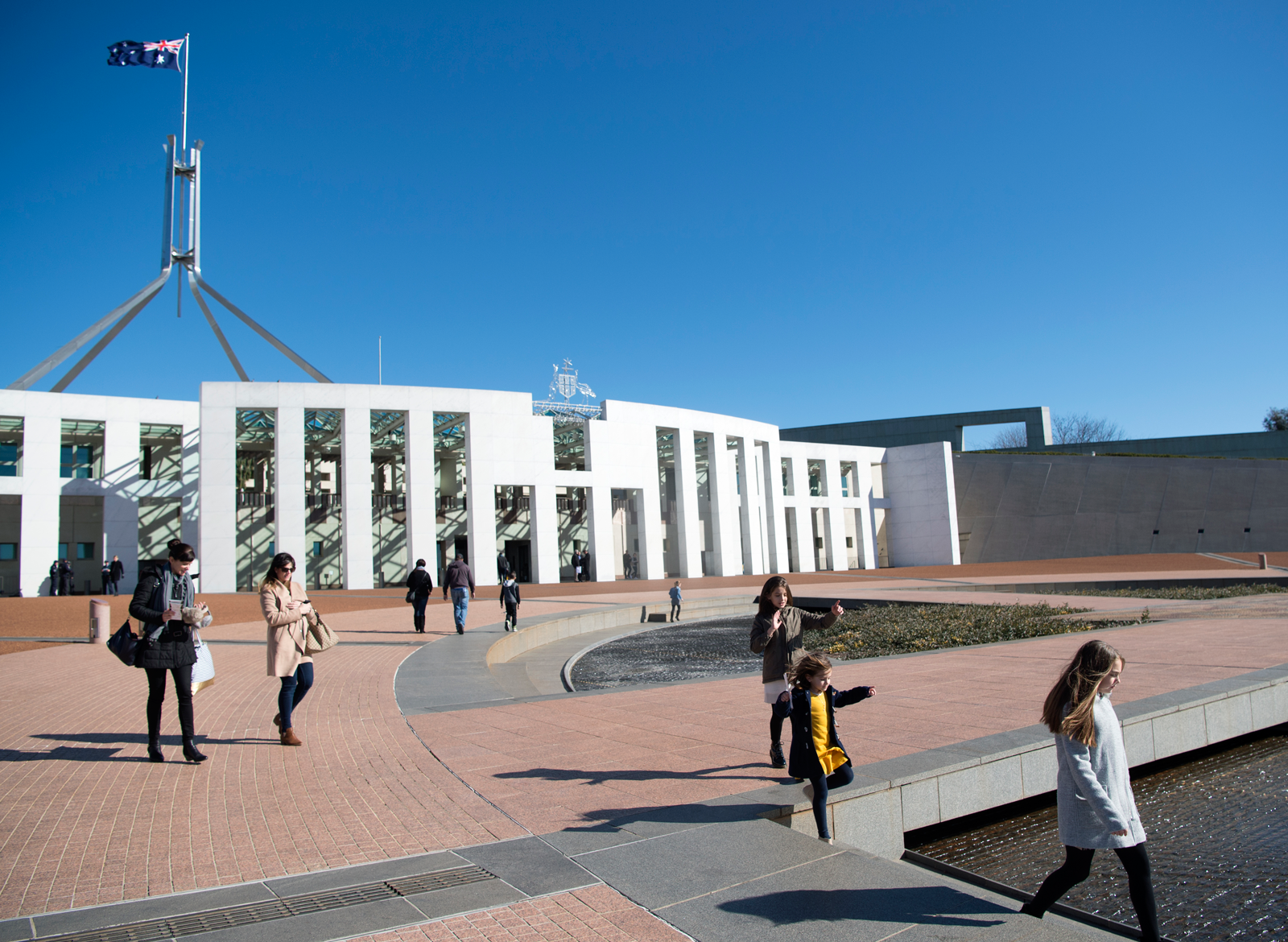 The Australian Mint
The Mint is literally where money is made!!! Our kids eyes lit up at the prospect!  This was a fascinating stop off.  Again it is FREE to enter and there is lots to see and do. You can learn about how all of Australia's circulating coins are made and observe the process in action from the factory viewing area. Our kids even printed their own legal commemorative $1 coin (this activity costs $3) and this served as a good souvenir. For more details, click here.
High Court of Australia
Probably for the slightly older kids, but the High Court was also interesting to see and free to enter. The striking, forty metre tall building is mainly constructed of concrete and glass. Visitors can access the Great Hall and the three courtrooms within.
Flags, Australians of the Year Walk and Lake Burley Griffin
For a breath of fresh air and a walk along the beautiful Lake Burley Griffin, the International Flags set along its foreshore are a colourful sight. You can make your way along to the 'Australians of the Year Walk' where each winning Australian of the Year is represented on a different bollard on the edge of the lake. It makes for a fun trip down memory lane (for the adults!)
The Australian War Memorial
Ok, this place is epic! It is thoughtfully laid out and very, very respectfully done. Allow plenty of time to explore and ponder this one. There are plenty of life size exhibits for the kids to enjoy including dress ups, helicopters, submarines, simulators, navy ships and much more. Open 10am to 5pm daily (except Christmas Day) and entry is free (donation greatly appreciated). For more information, click here.
OId Parliament House
This is a grand building. It is $5 entry per family and again, there is a lot to explore. This was possibly our favourite of the buildings. You have access to most of the building including Bob Hawke's Suite and staff offices. It is a fabulous time capsule. On the other side of the building is a VERY cool kids play area called PlayUp. The colourful, imaginative, hands-on activities totally flip the traditional idea of a museum upside down. Children are encouraged to stand up, make up, think up and step up in this exciting space with listening pods, fuzzy felt walls, games, roleplay cafes and daily craft activities. This is definitely one to check out with the kids – more information can be found right here.
National Gallery of Australia
We didn't spend a great deal of time here but were able to show the kids some amazing artworks & sculptures and there was also kids activities available on the ground level near the foyer.  Again, entry is free and for more information you can click here.
Questacon
We saved this one up our sleeve until last.  What a kids (and adults) wonderland! So many things to do and interact with. The kids thoroughly enjoyed their visit to Questacon. From the earthquake simulator, to the free fall slide and the under 6's area – it kept everyone entertained for hours.  It is $70 per family and you can check out more details here.
Telstra Tower on Black Mountain
On our last morning in Canberra we drove up to Black Mountain and went up the Telstra Tower. Boasting Canberra's best views, it is 15 minutes west of the city centre. It cost our family $17 to go to the viewing deck.  Although it was absolutely freezing from the deck, it was a spectacular view of in and around Canberra. For more information click here.
The Great Outdoors
One thing about Canberra is…it oozes space. There are plenty of options to get the kids running around and expending some energy at any number of parks, playgrounds, cycle paths, walking trails and nature reserves.  One standout playground is the magical Pod Playground at the National Arboretum 6km from the City Centre. There are acorn cubbies to hide in, climbing nets, tube slides and much more. The kids will love it. Entry is free but it is paid parking.
In summary
We thoroughly enjoyed our time as a family in Canberra. There is so much to see and it is really cost effective. We didn't feel like we were reaching into our pockets at every stop.  It was certainly one of our more educational holidays and I think that will stay with the kids for a long time. Being from Queensland, we enjoyed the cold weather and seeing the deciduous trees. We also found the amount of roundabouts and slip roads quite amusing.  We would definitely recommend it for a family holiday AND it's only a hop, skip and a jump to the Australian ski fields!
Enjoy!